Whoooooooa doggies, this is gonna be a long post. Starting with the most important thing: 3 new Smbitten pages!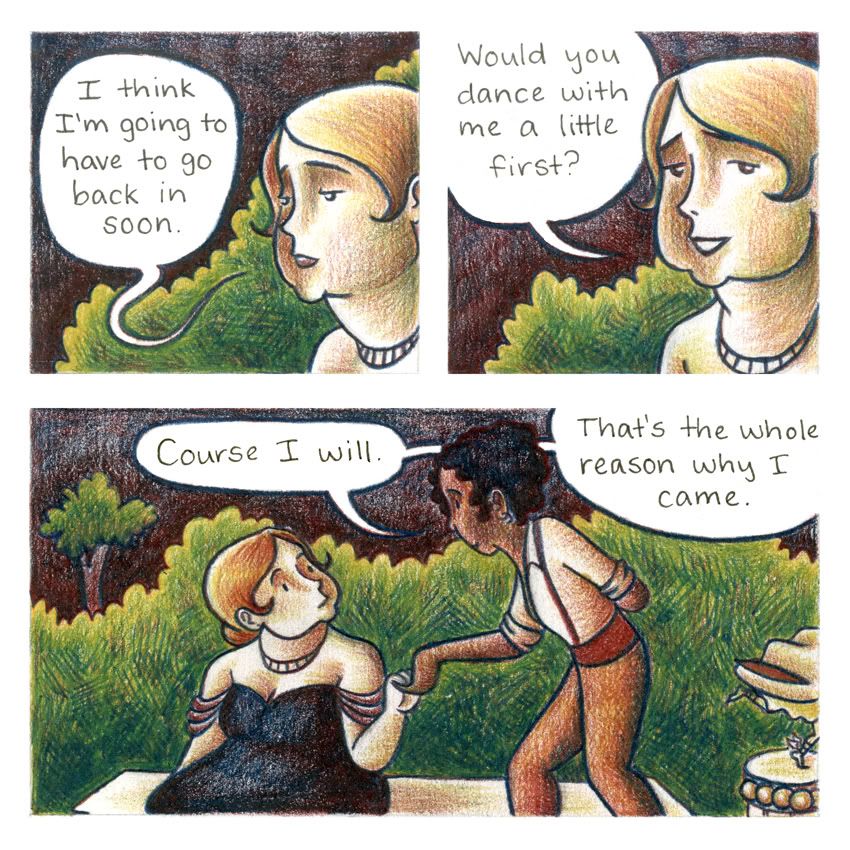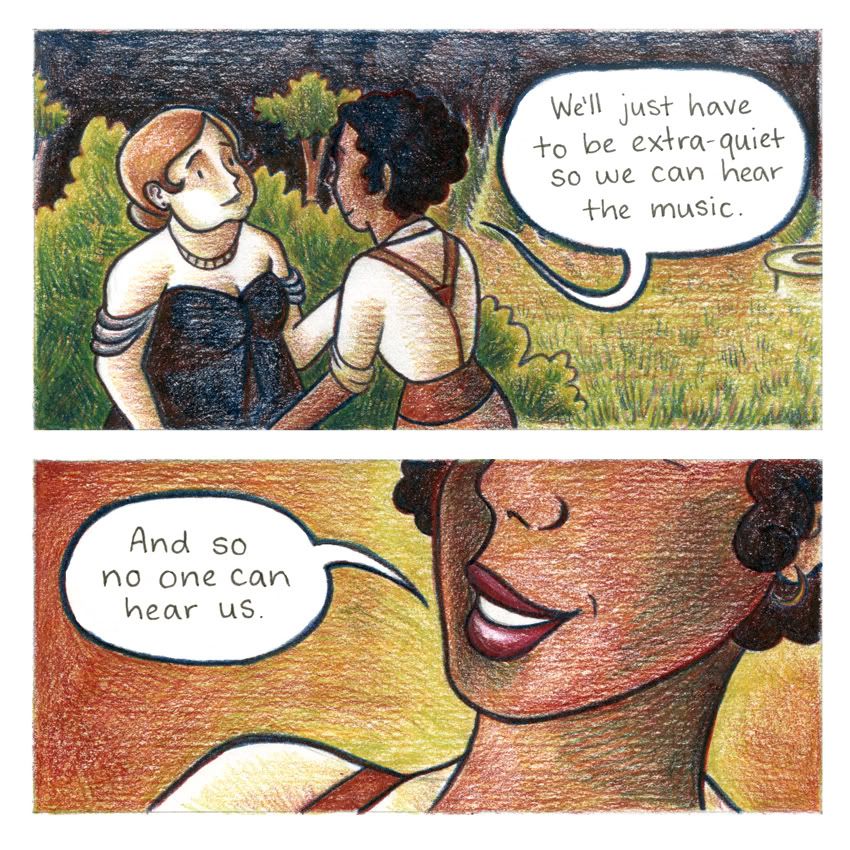 Gosh, these night-pages are slow-going, coloring-wise. I've been repeating the Alec Longstreth mantra (
It's just gonna take as long as it's gonna take!
) to myself a whole lot lately while drawing.
I've been trying to get myself to do more non-Smbitten drawing lately, too -- mostly so my poor beleaguered drawing hand has the chance to make some
broad
strokes on paper, not just infinite tiny little hatching strokes. (Gotta delay the inevitable onset of arthritis
somehow
, you guys.) Anyhow, a lot of what I've been doing on these drawing-breaks is making sketchbook diary comics, in no small part inspired by the straight-to-ink diary comics that've been appearing on Noah Van Sciver's tumblr lately:
http://infortunate.tumblr.com
Here's a couple of mine that've felt especially relevant lately:
And one more -- brace yourselves, it's a long'un.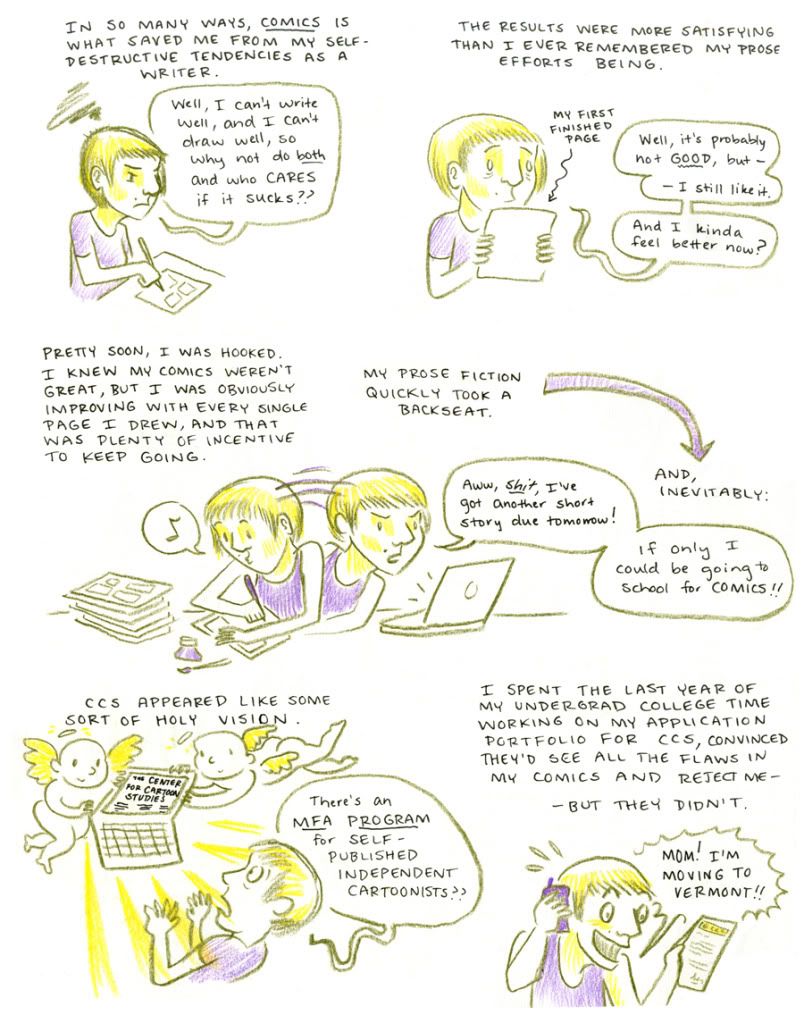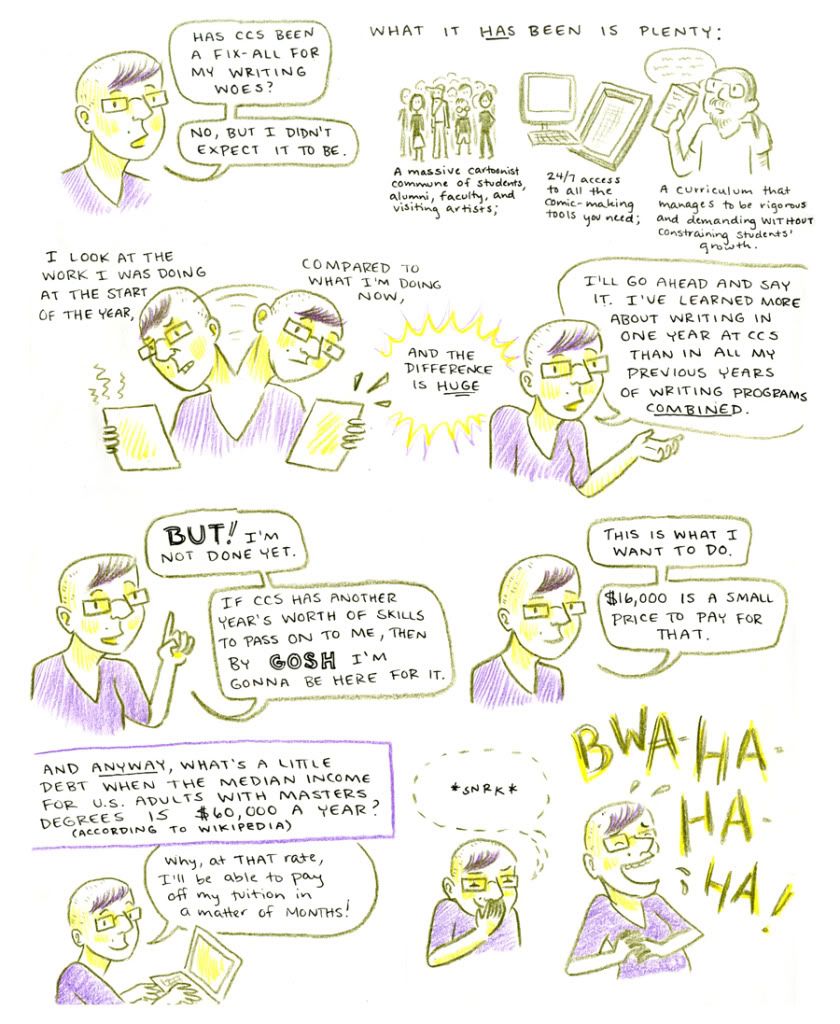 The bottom half of the data set Wikipedia pulled that median income from must be fraught with cartoonist MFAs.
I don't spend nearly the time I should talking about the Center for Cartoon Studies on this blog, but I really do mean what I said in these comics -- in the past year, CCS has given me the most demanding, rewarding, and relevant education I've received from
any
school, and I still feel that it's an astounding privilege for me to be here at all.
The money part's gonna be tough for a while. I don't mind that my tuition is so high, because the past year has proven to me just how
much
CCS is able to give its students in exchange for that tuition, but the fact that I'll be going into debt for the first time in my life has given me a few sleepless nights. I guess what it comes down to is, I feel good about giving CCS money because I get so much out of it -- but paying interest to some giant loan corporation which exists solely to suck money out of poor kids who want educations? Not as great a feeling.
So, between now and August when my tuition is due, I'm trying to front-load. I'd like to pay CCS as much as I can out of pocket, so I can pay
less
to Mr. Loan. So, beyond working my day-job and saving as much as possible, I'll also be updating my Etsy store periodically this summer -- and if you have the room in your heart to help out a poor li'l cartoonist, this is the best way to do it:
http://www.etsy.com/shop/melgillman
Here's some of the stuff I've put up for sale today: two screenprints of cute, half-nekkid, mythological lesbians. (These are partially an apology to all Smbitten readers out there who are still wondering, "WHERE THE BUJEEZES ARE THE LESBIAN VAMPIRES I WAS PROMISED??" though -- shhh! secrets! -- you wouldn't believe how
soon
that part's coming up.)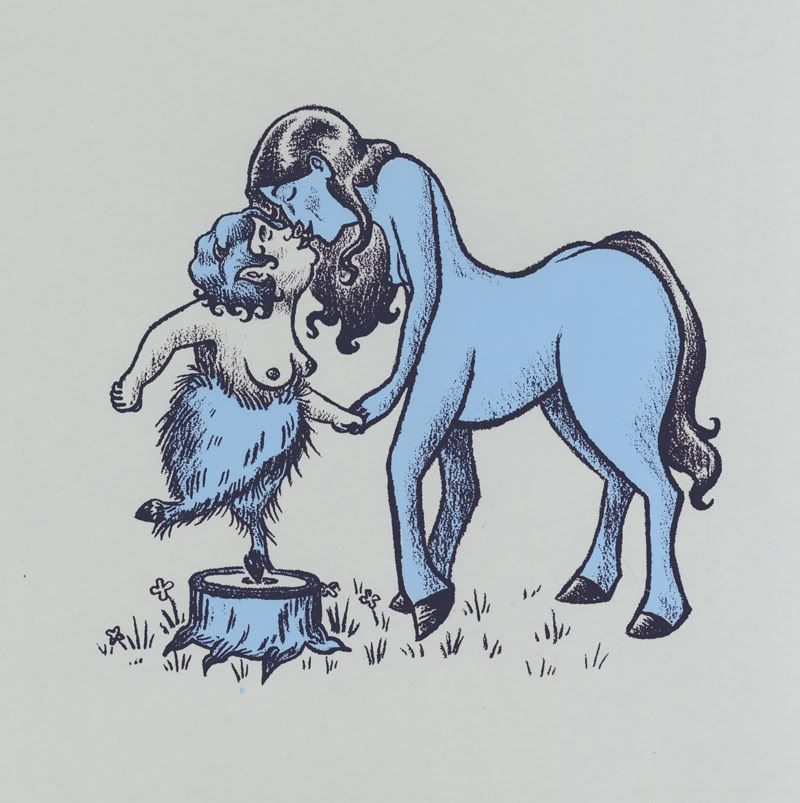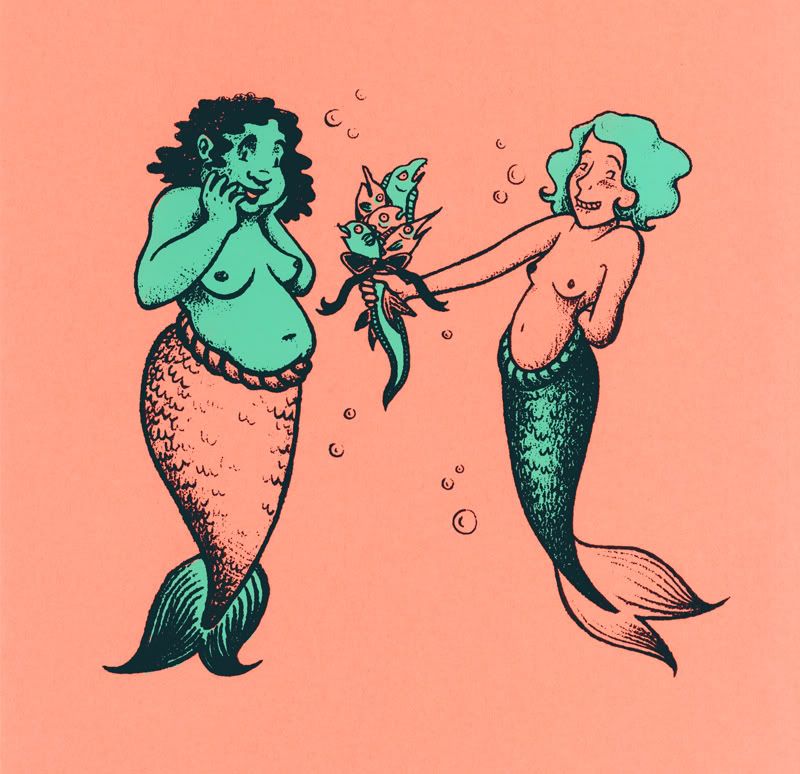 These were screenprinted by yours truly in the CCS lab, and I'm really happy with how they turned out.
I'd like to do a couple more prints in this series, and I am absolutely 100% open to your suggestions. Want to see a particular mythological lady-slash? Throw it my way! I'd especially love if anybody knew some figures from a non-Western mythology that they think would make for a good print.
The third Melanie-art option I've opened is for $10 colored-pencil commissions -- I will draw
anything you want
on a 7x7 piece of bristol, in classy black-and-white or 1-2 colors of your choosing, and mail you the signed original art within a week for framing or fridge-magnetizing or plain n' simple lording over your eternally jealous friends. An army of hedgehogs conquering Troy? A family picnic with Nicola Tesla on the moon? Your face superimposed on Danny DeVito's sumptuous body? It's all fair game. See details here:
http://www.etsy.com/shop/melgillman
And thank you, thank you, thank you, from the bottom of my cartoonist heart, to anyone who buys a print or commissions a drawing from me. You're helping me to achieve my education, and that means the world to me.
In closing, I have one last link -- I'm (finally!) hopping on the tumblr bandwagon, so that I have a place to post sketches and diary comics and funny pictures and cat gifs without them getting in the way of Smbitten-posts I make on here. If you have one too, send me a link! Let's be tumblr-friends!
http://pigeonbits.tumblr.com